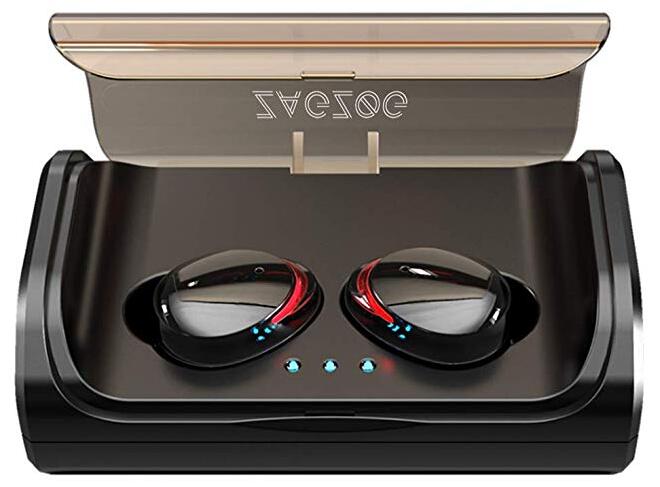 ---
For B2B (OEM/ODM/Agent/Distributor), please contact its original factory:  

---
Zagzog Bluetooth Earphone TWS Earbuds
Zagzog Bluetooth Earphone Sport Earphone Bluetooth Earbuds Earbuds In Ear with Bluetooth 5.0 IPX7 Waterproof 3000mAH Charging Box CVC8.0 Noise Cancellation for IOS Android Black
【Perfect sound quality】: Blutooth headphones with the high quality item and CVC8.0 technology provides excellent sound quality with deep bass and crystal clear treble while jogging, fitness, driving, cycling, swimming.
【Blutooth 5.0】: 1) .Bluetooth earphone is equipped with advanced V5.0 chip.The range is up to 30 meters.Its advantages: more stable, faster connection with Bluetooth devices, wider compatibility, reduced power consumption. 2). If you remove the headphones from the store box, both headphones will automatically pair stereo sound. If you plug the headphones into the charging box, Blutooth will automatically charge headphones.
【Super charging box】: 1). The 3000mAH capacity charging case improves portability and play time, and provides 42 times charging for headphones, a total of 90 hours of play time, 135 hours of talk time, 630 hours of standby time.
【Ergonomic design】: 1) One-button touch control design, multifunction button offers more freedom; 2) Mini earphone has only 4.2g, soft earplugs sit in the ear safely and conveniently; 3) IPX7 Waterproof, avoids the disturbance from the Sweat and rain.
【Customer Service】 We offer 30 days refund guarantee, 24 months manufacturer warranty, and lifetime customer service.
Zagzog brand Offical Website,Zagzog OEM Factory Manufacturer Website,Zagzog Bluetooth earphone,Zagzog TWS Earbuds,Zagzog TWS Earphone
Zagzog Bluetooth Kopfhörer Sport Kopfhörer Bluetooth Ohrhörer Earbuds In Ear mit Bluetooth 5.0 IPX7 Wasserdicht 3000mAH Ladekasten CVC8.0 Geräuschunterdrückung für IOS Android Schwarz
【Perfekte Klangqualität】: Blutooth Kopfhörer mit dem hochwertigen Einzelteil und CVC8.0 Technologie bietet eine ausgezeichnete Klangqualität mit tiefem Bass und kristallklaren Höhen an,während Sie Joggen ,Fitness ,Fahren,Radfahren,Schwimmen.
【Blutooth 5.0】: 1).Bluetooth Ohrhörer ist fortschrittlichen V5.0 Chip ausgestatte.Die Reichweite ist bis zu 30 Meter.Seine Vorteile:mehr stabiler, schneller Verbindung mit Bluetooth Geräte,breiter Kompatibilität, den Stromverbrauch reduziert. 2).Wenn Sie die Kopfhörer aus dem Ladenkasten nehmen, werden die beider Kopfhörer automatisch Stereo Sound paaren. Falls Sie die Kopfhörer in des Ladekasten einstecken,wird Blutooth Kopfhörer automatisch aufladen.
【Super Ladekasten】:1).Der Ladekasten mit 3000mAH Kapazität verbessert die Tragbarkeit und die Spielzeit , und bietet 42 mal Aufladung für Kopfhörer,insgesamt 90 Stunden Spielzeit, 135 Stunden Gesprachzeit, 630 Stunden Standby Zeit.
【Ergonomisches design】 :1)Eine-Taste Touch Steuerung Design,multifunktion Taste bietet mehr Freiheit an;2)Mini Ohrhörer hat nur 4.2g, weiche Ohrstöpseln sitzen sich im Ohr sicher und bequem ;3)IPX7 Wasserdicht,vermeidet die Storung aus dem Schweiss und Regen.
【Kundendienst】Wir bieten 30 Tage Erstattung Garantie an, 24 Monate Herstellergarantie und lebenslangen Kundendienst.
---
For B2B (OEM/ODM/Agent/Distributor), please contact its original factory:  

---